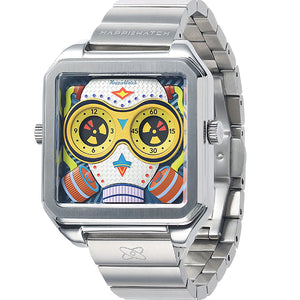 Poison: All I want to be is just an ordinary person
HappieWatch-Poison was originally just an ordinary person, transforming into a semi-mechanical cyborg by chance. Poison was overwhelmed by his immense power. He didn't want to be dehumanized gradually, so he needed to stay with human beings all the time to maintain his original intentions. Becoming a watch seems to be the best choice. The hand-polished stereoscopic dial fully reflects the trendy sense of the cyber age, and the cool cyborg on your watch enhances your signature style.
Our goal is to offer you the best shipping options, no matter where you live. We deliver to hundreds of customers across the world every day, and we strive to provide you with services of the highest level.
Processing Time: 2 business days
Shipping Time:
Customer Reviews
08/21/2021
weldon p.

Canada