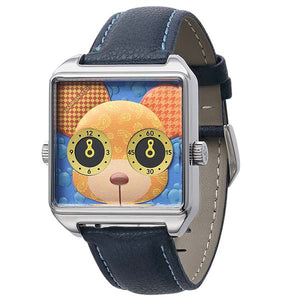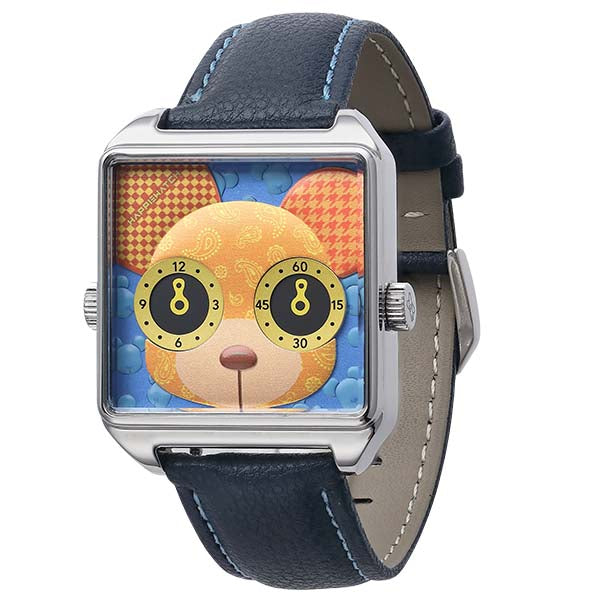 Unconventional Wrist Watch-Fashion Line
 
Happiewatch joins hands with trendy brand Qee to redefine the trend of the watch. No one can resist its charm.
It is the year 2021 on the earth, while on four-dimensional planet Q, the great astronomer Bear Bear Qee accidentally discovered a rainbow wormhole. Then the king of planet Q sent a Starfleet to explore the other end of the wormhole. The fleet passed through the wormhole and found that there was a dream-like blue planet. Through the time and space corridor, they found that the time order is very different here, and technology is developing rapidly on this blue star. Therefore, the peace-loving Qees decide to observe the development of the blue star, a.k.a. the Earth, and assist when necessary. The time scientists of planet Q create a watch to record the time of the blue star under the name of Bear Bear Qee and call it "Time Trap".
The Happiewatch X Qee "Time Trap" watch adopts a stereoscopic engraved dial immersing with technological grid elements. After dozens of times of hand-painted process, it displays the bizarre and fantastic scene to make you feel you are wandering in the rainbow wormhole. The binocular pointer matches with the infinity symbol ∞ and key elements. With a customized silicone strap and gold-plated case, you will find the trend and fun shining on your wrist.
Enjoy the fun moment with HappieWatch-Qee Bear on your wrist. Watches inspired by street fashion & designed by artists across the world. Gift box packaging. Sustainable Materials. 24*7 customer service. Free shipping available* 
Processing Time: 2 business days